SSARC Involvement
Become a SSARC intern! Applications during Winter 2020!

Are you interested in leadership and professional communication? Want to assist your fellow peers through becoming involved in Social Sciences? Join our SSARC Family!
Click Here for the application! Email login required.
Application Requirements
Applications are late Winter 2020

Preference for students holding a 3.0 GPA
Open to Social Science Majors ONLY
Include a resume with your application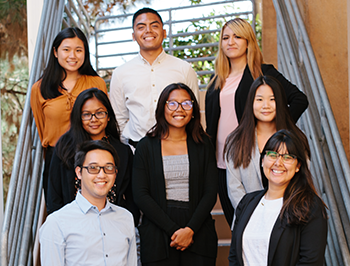 Job Description
Manage assigned units within SSARC to learn and gain practical knowledge in Campus Involvement, Research, Graduate School, Professional Development, or Marketing.
Present and/or facilitate various skill-based workshops and information/recruitment sessions related to post-baccalaureate preparation and placement
Assist undergraduate students in matters of internship search, graduate school applications, and research opportunities
Participate in training seminars prior to employment and throughout the term of employment
Provide assistance and administrative duties in data collection, event planning, and marketing
Course Commitment

Enroll in Social Science 194 for 4 units P/NP
Year-Long Appointment
Flexible 10 hours/week commitment
Must attend all weekly meetings and most planned events
Mandatory Summer Training and supplementary Spring Orientation
Internship Objectives
Develop knowledge about career development and graduate school preparation
Learn about many different resources in our school and campus as a whole
Gain team building skills through various training and development strategies
Obtain leadership, management, and program development skills
Improve and refine public speaking and virtual communication skills
Increase self-efficacy and confidence in management and leadership skills
Please contact us at ssarc@uci.edu for further questions.