Internship Search Organizer
As you begin your internship search, tracking relevant information for every position is crucial. Every company you apply to will have its own application deadlines, required documents, contact information, and more. Download a copy of our templates to start organizing!
Google Sheets Template utilizes three sheets total: (1) General + Timeline, (2) Internships, and (3) Internship Descriptions.
General + Timeline

The "General + Timeline" Sheet allows you to add general to-do items, internship/job search resources, note/reminders, and industries of interest in their own lists. The general to-do list allows you to "check off" an item after completion, and it'll cross off the task as completed! It also has an area to add to-do items with particular deadlines, separated by weeks. This is used to create an action plan towards achieving your internship goals.

Internships

The "Internships" Sheet is the place to keep track of all the internships and positions you apply for. If you don't plan to use the rest of the template, utilize this sheet as the foundation to your internship search! It allows you to organize application dates, submission dates, interview dates, and contact information for each position. It's a good place to link the company website and the job posting. You can also link certain cells of a Google Sheet, so cells B3 and B4 link to the third sheet, where more information about the specific position and the company are compiled.

Internship Descriptions

The "Internship Descriptions" Sheet is an optional page to compile all the information about the job including required qualifications, job description, company vision/mission/value statements, job timeline, pay, location, and more. Google Sheets has a feature to group rows (or columns), so all the information relevant to one company is grouped together, which can later be minimized or maximized.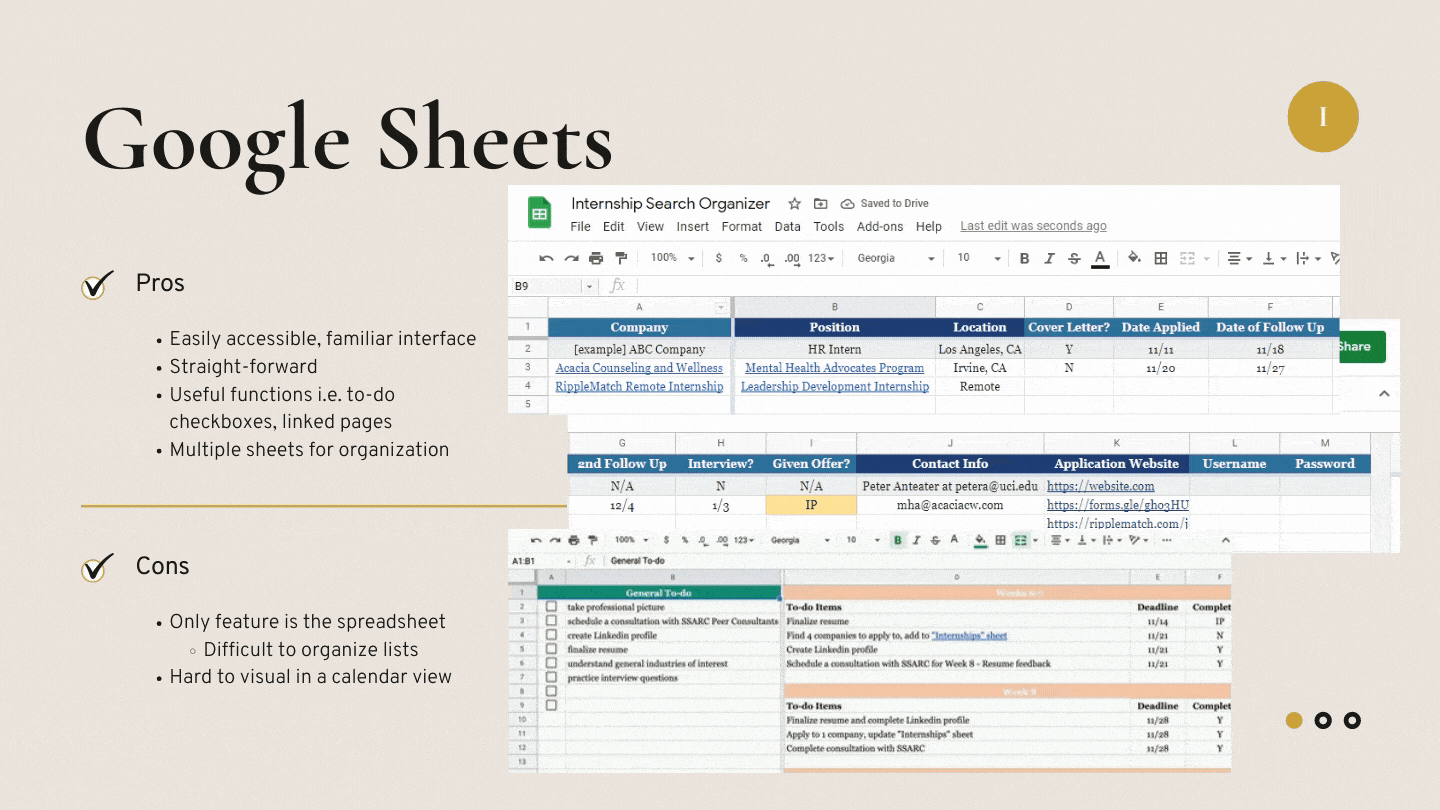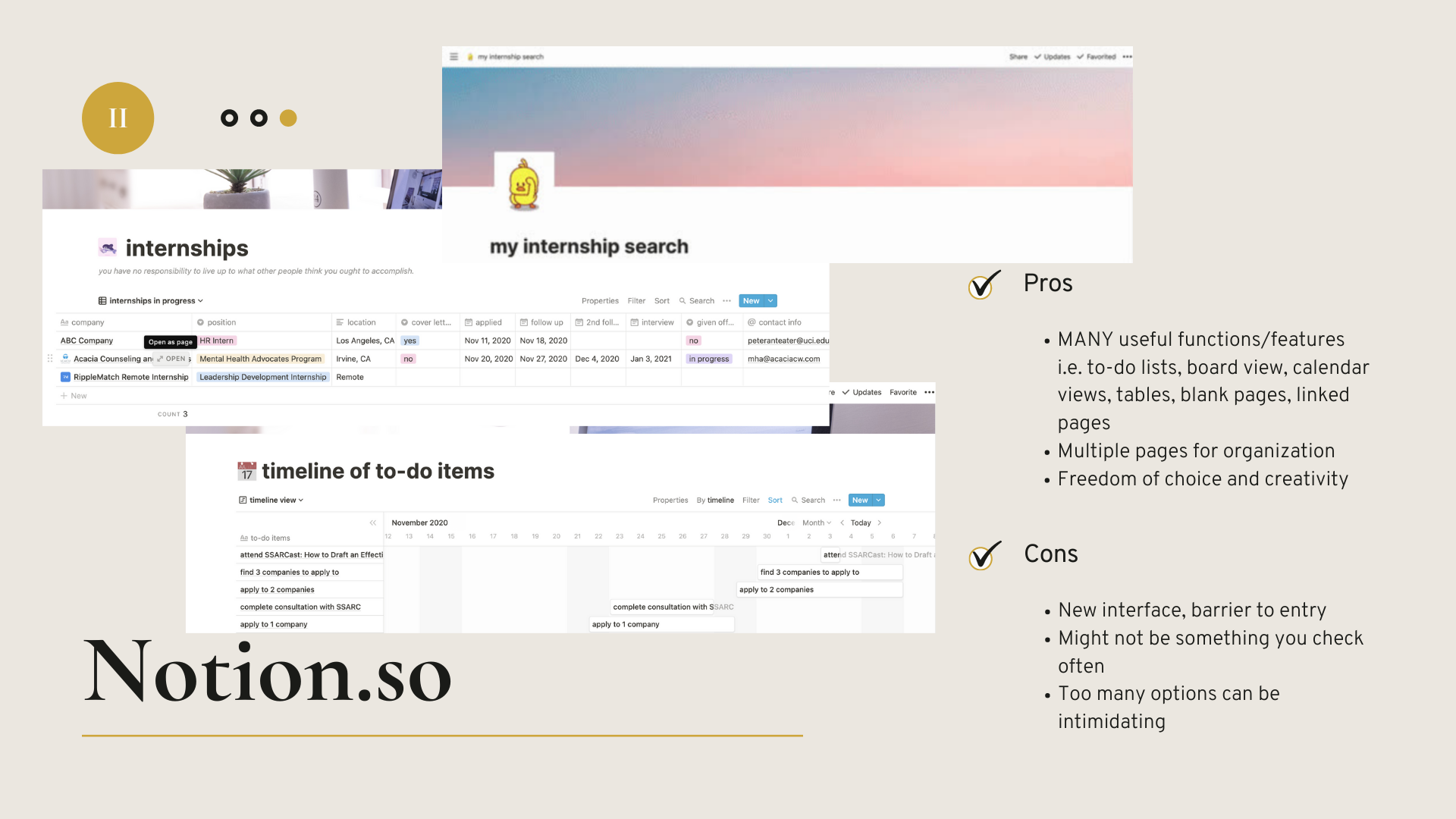 The Notion.so Template takes you to the home page titled "My Internship Search," and there are two additional pages listed under "Index:" (1) Timeline of To-Do Items and (2) Internships.
My Internship Search

The "My Internship Search" page has a general to-do list, the index that takes you to the other pages, general resources, and two different views of the other pages. The general to-do list is also a list that allows you to check off completed items. The page itself also has some words of affirmation and a lo-fi Spotify playlist!

Timeline of To-Do Items

The "Timeline of To-Do Items" page under the "Index" list on the home page shows a table of your tasks, weeks of completion, and deadlines. This is meant to maintain an action plan for your goals. It allows you to select different views of the information, so you can create a timeline view, a view of items to complete this week, a board view, and more.

Internships

The "Internships" page under the "Index" list on the home page shows a table of the internships you are applying to or plan to apply to. This is the page you want to use as the foundation of your internship search as it lists the company, position, important dates, and website for every position. It also allows you to open up a page with additional information about the company and internship by clicking on the company name. The new page has information about the company vision/mission/value statements, pay, job timeline, responsibilities, qualifications, and more.
General tips to staying organized throughout your search:
Create a timeline of your tasks to help prevent procrastination

Schedule important events, conferences, panels, information sessions into your calendar

Keep track of application deadlines, application submissions, interview dates, acceptances, and more

Have a record of your usernames/passwords

Compile information about the position/role/company for future reference (in preparation for an interview)

Create a bank of your updated materials and documents (i.e., resume, CV, cover letters) in desktop folders, Google Drive, etc

Find your accountability buddy - if you don't have one, meet with peers on the SSARC Team!
Watch this SSARCast on How to Organize Your Internship Search
Preparing for Common Interview Questions
While you continue to apply to internship positions, you'll start to hear back from companies extending an opportunity for you to interview with them! Learn how to prepare for commonly-asked interview questions from a previously-recorded SSARC event titled Common Interview Questions on our YouTube channel.