Virtual Consultations
Our team is available Monday through Friday for virtual one on one 30-minute consultations. To schedule an appointment, visit https://appointments.web.uci.edu/. Once scheduled, you will receive an email and calendar invite from our team with information on how to log in to your appointment via Zoom. Consultations must be scheduled 12 hours in advance. First appointment available at 9:30am and last appointment available at 4:30pm.

How can SSARC help you? We can connect you to:
Graduate school applications
Academic Internships & career positions
Schoolwide and campuswide scholarships
Faculty-mentored research opportunities
Campus leadership & service opportunities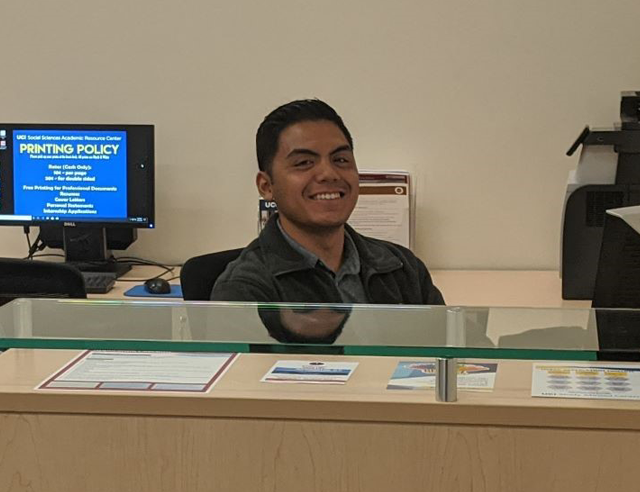 Meet a Graduate Student

Our graduate student advisors will guide you through the entire process, including program choice, personal statement edits, asking for letters of recommendation and completing/submitting the application. Take the opportunity to meet one-on-one with a current UCI Graduate Student for a 30-minute virtual appointment. Graduate student advisors are unavailable during Summer Session.
Click Here to Schedule an Appointment
*All appointments will take place
virtually using Zoom until further notice.
Connect with a SSARC team member through our virtual front desk during operating hours, Monday-Friday 9am-5pm (unless otherwise noted). Receive immediate assistance through any of the following methods:
Google Meet: Speak with a SSARC team member through the following Google Meet link: https://meet.google.com/giy-khfd-zkq

Available

Mondays-Thursdays, 3:00-5:00PM

(Weeks 2-10) on first come first serve basis

Video/camera is optional but encouraged so we can see you!

Phone:

949-824-8322

Email:

ssarc@uci.edu

Google Chat

:

Google Chat is available on the web and on mobile with apps for Android, iOS, and desktop. To start a chat with SSARC, search for

ssarc@uci.edu

using the + icon on Google Chat.

Mobile: In the App Store or Google Play, download

Google Chat

Web: Visit

https://chat.google.com